First venison of the season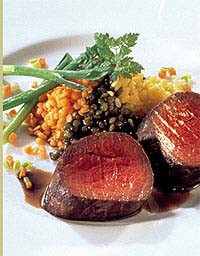 We went out to dinner with my in-laws last night and their Country Club had a game-heavy menu that included pheasant, venison, walleye, duck, etc. This is quite a departure from the usual fare and quite a risk for the chef to take.
I had venison medallions (thin slices of loin) roasted and served with a cranberry Madeira wine reduction, roasted acorn squash, and a neat presentation of mashed russet and sweet potato. Yum.
There's little that fits better the taste of the season than pheasant, venison, duck, turkey, and goose. There is assuredly a reason for this (traditionally hunting season for these animals is this time of year.) Add apples, cranberries, and squash to the mix and you have a wide variety of delicious dishes that are easily prepared.
Thanks for reading,
B